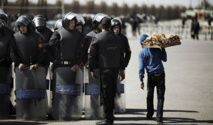 The Court of Cassation, Egypt's top appeals court, also ordered the interior minister to pay 1.5 million Egyptian pounds (about 85,000 dollars) in compensation to the victim's family.
The ruling is final.
In July last year, a criminal court sentenced a senior police officer to seven years in prison and five co-defendants each to three years in the case.
In November 2015, Talaat Shabeeb, 45, died in police custody in the southern city of Luxor after he was arrested, allegedly for drug possession.
Shortly after his arrest, Shabeeb was reportedly taken from police custody to a hospital.
His family accused police of beating him to death, an allegation that triggered street clashes between protesters and police in Luxor.
An official forensics report indicated that Shabeeb's body bore signs of beating, leading to his death.
Police violations were a major reason for the 2011 uprising that forced long-time autocrat Hosny Mubarak out of power.
Rights groups say there have been massive rights abuses in Egypt since the army's 2013 overthrow of Islamist president Mohammed Morsi following mass protests against his rule.
The authorities have repeatedly called the violations "isolated cases" and vowed to punish wrongdoers.
Notepad