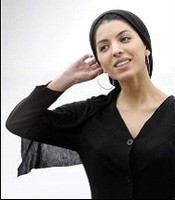 Iranian director Samira Makhmalbaf
From an imaginary town in central Asia to a Nazi concentration camp, the two films explore the relationships between two groups of boys whose lives are diametrically opposed.

In "Two-legged Horse," which was filmed in Afghanistan using only untrained actors, a father hires a boy to act as a horse for his son, who has lost his legs in a mine.

The film, which examines issues of violent domination and subjugation and shows how humans can be treated like animals, stands out for its dramatisation of physical abuse.

"I wanted this film to shock you, to shock me. When I read the script it shocked me," said Iranian director Samira Makhmalbaf at a press conference.

"I wanted to show a violence that you are not accustomed to, but that exists. I don't want to make a movie that doesn't aim to change something in the world," she added.

"The challenge was to direct a film based on a surreal theme but in a totally realistic style, almost documentary-like," she said.

Refused permission to film in Iran, Makhmalbaf instead chose Afghanistan, where an on-set attack killed one member of the crew and injured five more.

The film's screening marked the start of the festival's competition for the Golden Shell award for best film, in which there are 15 entries.

Samira Makhmalbaf, a two-time winner of the Jury Prize at Cannes, is the sister of Hana Makhmalbaf, whose film "Buddha Collapsed Out of Shame" won the Special Jury Prize at San Sebastian last year.

Her filmmaker father Mohsen Makhmalbaf is the co-screenwriter of "Two-Legged Horse."

Festival goers were also treated Friday to a sneak preview of "The Boy in the Striped Pyjamas," adapted by British director Mark Herman from the bestselling book by John Boyne.

The film, which is not entered for an award at the festival, explores the relationship between two young boys whose lives are also headed in opposite directions.

Filmed in English, the movie takes place in Germany in 1942, where Bruno, the son of a Nazi officer, strikes up a friendship with Shmuel, a young Jewish boy who is being held prisoner in a concentration camp.

Defying the physical barrier between them, Bruno crosses over the wire fence to help Shmuel find out how his father disappeared and met his tragic end.

The director and the author worked closely on the film to ensure it conveyed the same emotions as the book.

"I was very keen that John was involved, to have his approval and support," said Herman.

Spanish actor Antonio Banderas, who opened the festival with his new film "The Other Man," also returned to the centre stage Friday when he received a career achievement Donostia Award along with Meryl Streep.

The San Sebastian festival, the oldest and most prestigious in the Spanish-speaking world, lasts until September 27.