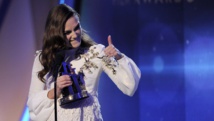 The erotic romance "Fifty Shades Darker" got eight nods, "The Mummy" received seven and "Baywatch" and "The Emoji Movie" were nominated for four prizes each.
The satirical Golden Raspberry Awards - popularly known as the Razzies - award the worst film achievements of the year.
"Transformers," the fifth instalment of the franchise, was nominated for worst movie, worst script, worst director for Michael Bay, worst actor for Mark Wahlberg, worst supporting actor for Josh Duhamel and Anthony Hopkins and worst supporting actress for Laura Haddock, worst screen combo and worst remake, rip-off or sequel.
Other famous actors up for the spray-painted plastic trophies include Katherine Heigl, Dakota Johnson, Jennifer Lawrence, Emma Watson, Tom Cruise, Johnny Depp, Zac Efron, Javier Bardem, Russell Crowe, Mel Gibson, Kim Basinger, Goldie Hawn and Susan Sarandon.
The award "winners" will be announced on March 3, one day before the Oscars.
The mock awards were first handed out in 1981 by American copywriter and publicist John Wilson.