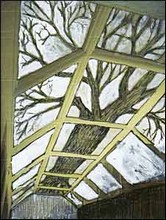 The work, by Tania Kovats, was selected by judges over proposals by Turner Prize winners such as Mark Wallinger.

The 17 metre-long permanent installation is cut lengthways to include the roots, trunk and branches.

It will be unveiled on 12 February next year, almost exactly 200 years after Darwin was born.

London-based artist Kovats said: "The cross-section is a way of understanding anything in the natural world."

The work will be inserted into the ceiling of the mezzanine gallery and will become one of the largest specimens at the museum.

Tree is inspired by a diagram in one of Darwin's transmutation notebooks.