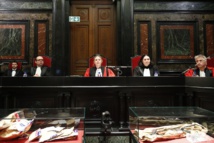 Four people were killed in the shooting on May 25, 2014: an Israeli couple, a Belgian man who worked at the museum and a French woman who volunteered there.
It was the first of several attacks on European soil attributed to the Islamic State extremist group.
Nemmouche, now aged 33, was arrested a week after the attack in the French city of Marseille and was extradited to Belgium. A second man, Nacer Bendrer, aged 30, was later arrested on suspicion of having supplied the weapons used.
The prosecution has identified Nemmouche as the attacker, based on video surveillance footage from several cameras installed at the museum.
The trial at the Brussels crown court began by introducing the defendants, before the prosecution was due to start reading out its 184-page statement detailing the full inquiry into the attack, the Belga news agency reported.
Security was high, with police vans, armoured vehicles and a police truck mounted with a 360-degree camera positioned around the courthouse, RTBF reported.
The hearings are expected to last six to eight weeks.
Nemmouche, a French national, is believed to have travelled to Syria in 2013 to take part in jihadist training camps and fight alongside extremist groups.
Among the 120 witnesses due to testify are four French journalists who were taken hostage in Syria in 2013 and identified Nemmouche as one of their gaolers, the Belga news agency reported. One of the four alleged that Nemmouche had regularly tortured Syrian prisoners.
The trial has a jury of eight men and four women. One of them was absent at the start of the trial, necessitating a replacement from a pool of 12 backup jurors, Belga reported.
Since the Jewish Museum shooting, Islamic State has claimed several attacks in Europe, including a series of strikes in France and Belgium that claimed more than 260 lives in 2015 and 2016.