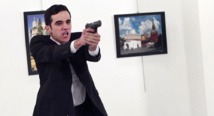 A total of 14 suspects, nine of whom are jailed, were present at the courtroom for the first hearing on Tuesday, Anadolu said. Another four jailed suspects connected to the courtroom via a televised link.
The remaining suspects, including Gulen, were on trial in absentia.
In November, a prosecutor in Ankara brought charges against Gulen and 27 others in connection with the 2016 killing of ambassador Andrei Karlov.
A 609-page indictment accused the suspects of being a member of a terrorist organization, premeditated murder and other charges, Anadolu said.
The indictment had concluded that Gulen and his network, whom Ankara blames for a 2016 failed coup attempt, allegedly aimed to damage relations between Ankara and Moscow.
Gulen denies any involvement in the failed putsch.
Karlov was shot dead by an off-duty policeman on December 19, 2016, at an exhibition in Ankara. The shooter shouted Islamist slogans and denounced Russia's involvement in the Syrian conflict before being killed by police.
Turkish President Recep Tayyip Erdogan has said Gulen was behind Karlov's killing. The assassination came one year after Turkey downed a Russian jet near the Turkish-Syrian border. Russia and Turkey have since mended ties and have resumed cooperation in Syria.
Among the plaintiffs in the indictment are Karlov's wife and three people who were injured during the attack on Karlov, Anadolu added.