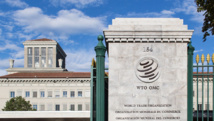 The first day features two of the favourites in the race: Ngozi Okonjo-Iweala, a former Nigerian finance minister and a former member of the World Bank's leadership team; and the Mexican Jesus Seade Kuri.
According to diplomatic sources in Geneva, many countries agree that the time has come for a highly qualified African woman to lead the troubled organization.
Seade is seen as a possible geopolitical compromise candidate. He has strong connections to the United States, as he was a leading negotiator for the new US-Mexico-Canada trade agreement (USMCA).
WTO members aim to find consensus by early November on a successor to the Brazilian Azevedo, who will step down at the end of August for personal reasons, cutting his term short by one year.
The WTO's free trade rules are currently being challenged by US trade spats with major economies. In addition, the US has been blocking the WTO's trade dispute settlement mechanism and threatening to leave the organization, as President Donald Trump demands reforms and fairer treatment of his country.
The other candidates for the WTO top job are former senior WTO official Abdel-Hamid Mamdouh from Egypt, former Moldovan foreign minister Tudor Ulianovschi, South Korean Trade Minister Yoo Myung Hee, Kenya's former WTO envoy Amina Mohamed, former Saudi economy minister Mohammad Maziad al-Tuwaijri, and former British trade secretary Liam Fox.