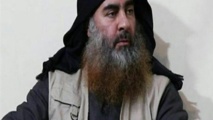 His body was mutilated, but DNA tests confirmed al-Baghdadi's identity, Trump said. "It was him."
The raid brought to an end a years-long hunt for the militant who spearheaded a self-proclaimed caliphate that inspired violence around the world, and dealt a blow to the terror group's ability to rebuild such a caliphate.
"A large number of al-Baghdadi's fighters and companions" were killed, Trump said, while 11 young children were moved out of the house, uninjured. No US personnel were harmed in the operation.
The president said the "events are another reminder that we will continue to pursue the remaining ISIS terrorists to their brutal end."
Firas Modad, Middle East analyst at IHS Markit, told dpa that al-Baghdadi's death "makes it easier for IS to splinter, as Baghdadi would have been the glue holding it together."
"It's impossible under the circumstances to declare a new [caliphate]," Modad said. "That phase of the group is over. But the aspiration for a restored caliphate is not."
In his remarks, Trump equated watching the operation from the White House Situation room to "watching a movie," and said it should be released so that al-Baghdadi's supporters could see that he "died like a dog" and a "coward."
Trump thanked Russia, Turkey, Syria, Iraq and Kurdish forces in Syria for their cooperation with the raid.
The Turkish Defence Ministry said in a statement that Turkey and the US had exchanged information on a US-led raid in Syria's Idlib, but Russia's Defence Ministry raised questions over the operation.
There was no convincing evidence that the US carried out such an operation in a zone in Syria not under its control, a ministry statement quoted spokesman Major General Igor Konashenkov as saying.
Over the years, there have been multiple claims of al-Baghdadi's death that were later proven false.
The Iraqi military said the country's national intelligence agency identified the hideout of al-Baghdadi and his followers in the Syrian province of Idlib after a special team was formed to collect intelligence about his whereabouts over the course of a year.
"As a result, US forces, in coordination with the Iraqi national intelligence agency, carried out a military operation which led to the elimination of al-Baghdadi and those with him," the army said in a statement.
The Kurdish-led Syrian Democratic Forces (SDF) said in a statement that the operation was the result of "sensitive and delicate work" over more than five months between SDF military intelligence and the US.
The SDF militia said the operation to kill al-Baghdadi "emphasizes continuation of our joint work" with the US-led alliance.
Trump recently drew criticism for his decision to withdraw troops from north-east Syria, effectively abandoning Washington's Kurdish allies in the face of a Turkish assault and potentially allowing IS to regain strength in the area.
Trump on Sunday maintained his position that the US should not "guard Turkey and Syria for the rest of our lives," but said some troops would remain in Syria to protect oil fields.
US troops and the SDF are now targeting al-Baghdadi's top aide Abul-Hasan Al-Muhajir in the town of Ain al-Beida in the countryside of Jarabulus, Rami Abdel Rahman, head of the Syrian Observatory for Human Rights, told dpa.
The Britain-based watchdog said five IS militants were killed in the raid while they were attempting to flee.
SDF Commander Mazloum Abdi tweeted that Al-Muhajir was targeted near Jarabulus as part of operations to chase out IS leaders.
Al-Baghdadi had been in hiding for five years. The US had for some time been offering a reward of 25 million dollars for information that could lead to locating him.
In April, al-Baghdadi appeared in a video, the first since footage was released in 2014, a few days after the group's self-styled "caliphate" was declared in Iraq and Syria.