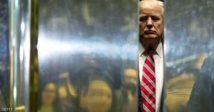 Trump announced the decision on Twitter, coming to the defence of the 50-year-old pastor and native of the US state of North Carolina who was indicted in Turkey on terrorism charges. Brunson has lived in Turkey for two decades, preaching at a small congregation in Izmir on the Aegean coast.
"The United States will impose large sanctions on Turkey for their long time detainment of Pastor Andrew Brunson, a great Christian, family man and wonderful human being," Trump wrote on Twitter. "He is suffering greatly. This innocent man of faith should be released immediately!"
The president's remarks came shortly after a tough speech by Vice President Mike Pence, who warned sanctions would come if Turkey did not take "immediate action" to release the pastor, who was arrested in 2016.
Brunson was moved to house arrest this week after spending about a year-and-a-half behind bars. Pence said Thursday that this was a welcome first step but "not good enough."
The US threat marked a significant escalation in already tense relations between the two NATO allies over a range of issues - from Syria to Turkey's purchasing of advanced Russian air defence systems - that have seen the governments grow further apart.
In the wake of Trump and Pence's statements, a spokesman for Turkish President Recep Tayyip Erdogan warned that the US needed to reconsider its approach or risk further damaging the countries' alliance.
The US "must understand that it cannot reach desired results by threatening Turkey over an issue which falls within the jurisdiction of our country's independent judiciary," Ibrahim Kalin said in a statement, adding that the threatening language was "unacceptable."
Turkey's top diplomat weighed in on the spat and said Turkey was governed by rule of law. "We will never tolerate threats from anybody," Mevlut Cavusoglu said on Twitter.
Turkish state news agency Anadolu reported that US Secretary of State Mike Pompeo and Cavusoglu had spoken by phone.
"No one can give orders to Turkey and threaten our country," said Hami Aksoy, a Foreign Ministry spokesman.
Turkey has shown political will to improve relations with US and "did its part more than enough," Aksoy said, calling on Washington to engage in dialogue.
Pence spoke by phone this week with Brunson and is in contact with his family. The top US diplomatic in Turkey, Philip Kosnett, released a statement saying he also visited the pastor and his wife, Norine.
"We will continue working until Andrew Brunson is a free man and there is justice for him and for other unjustly detained American citizens and local Turkish employees of the US diplomatic mission," Kosnett said, referring to additional concerns of Washington.
The arrest of the local staff caused a serious rift last year, with both countries temporarily suspending visa services for one another's citizens for nearly three months.
Pence noted that tens of thousands of people have been arrested in Turkey since a failed military coup attempt in July 2016, including journalists, activists, judges, teachers and military officers.
Against expectations, a court in Izmir on July 19 denied a request to release Brunson, sparking Trump to term the pastor a "hostage."
Brunson is accused of ties to the movement of Fethullah Gulen, an Islamic cleric who lives in exile in the US and whom Ankara blames for the coup attempt. Brunson is also accused of links to the banned Kurdistan Workers' Party (PKK), a secular-leftist militia.
Erdogan suggested last year that Brunson's case could be connected to an extradition request for Gulen, who lives in Pennsylvania.
Anger over Turkey in the US has bridged partisan lines, with lawmakers on the left and right increasingly critical of Ankara and seeking to impose sanctions, which could include being left out of the F-35 military plane program.
There are also lingering issues over a Turkish state-run bank that was allegedly involved in busting sanctions on Iran, which hangs in the background as Trump looks to impose a fresh sanctions regime on Iran.
Turkey relies on Iranian energy and has indicated it will not acquiescence to US demands to cut off supplies from its neighbour, potentially posing further risks.
The rising acrimony comes just months ahead of US midterm elections in November, with Trump's conservative Republican Party seeking to hold its majority in both houses of Congress.