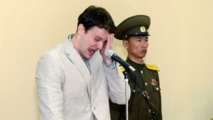 Trump described himself as "in such a horrible position" two days after saying he believed Kim when the North Korean leader told him he was unaware of what was happening to Warmbier.
"In one way I have to negotiate and in the other other way I love Mr and Mrs Warmbier and I love Otto," Trump said in a speech to a gathering of conservatives outside Washington. "It's a very delicate balance."
Warmbier's parents on Friday rebuked Trump for his comment, saying Kim and his "evil regime" were responsible for their son's death. The 22-year-old died in June 2017 shortly after being released from 17 months of captivity in North Korea.
Trump's speech at the Conservative Political Action Conference (CPAC), an annual gathering just outside Washington, was his first since his summit earlier this week with North Korea's Kim Jong Un, which ended without an agreement on denuclearization or sanctions.
Trump said what happened to Warmbier "was so bad," but he noted progress on the return of other Americans held by North Korea and remains of soldiers killed in the Korean war as well as the suspension of missile testing and the development of his "very good" relationship with Kim.
He said negotiators made a lot of progress and predicted more.
"We learned a lot over last couple of days," he added.