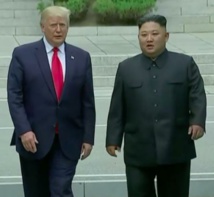 In the coming weeks, working groups will be set up on both sides. The US group will be led by Secretary of State Mike Pompeo.
Trump did not give details of what the working groups would discuss, but he made clear that comprehensive sanctions against North Korea would remain in place for the time being.
The US has demanded the complete denuclearization of North Korea. South Korea and the US are also pushing for an official peace treaty between the Koreas.
Notepad