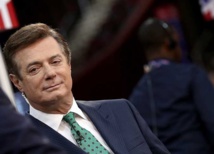 A 12-count indictment handed down by a grand jury in Washington charges Manafort and his business associate Richard Gates with conspiracy to defraud the United States, money laundering and violations of lobbying laws.
The charges are the first to emerge from an investigation centred on Russian interference in the US presidential election that has encompassed alleged contacts between the Trump campaign and Russia, but the charges are not directly tied to the campaign itself.
Both men entered not guilty pleas in Washington court to charges Manafort's lawyer called "ridiculous" and insisted there was "no collusion" with the Russian government.
They were placed under house arrest and ordered to surrender their passports, US media reported. Bond was set at 10 million dollars for Manafort and 5 million dollars for Gates.
Manafort turned himself in to the FBI on Monday morning, as a grand jury investigating the campaign's ties with Russia moved forward, the FBI confirmed to dpa.
Trump dismissed the indictments as stemming from Manafort's work years before the campaign and as showing "no collusion" between his campaign and Russia.
"Sorry, but this is years ago, before Paul Manafort was part of the Trump campaign," Trump said on Twitter.
The charges against Manafort and Gates encompass work dating back to 2006, but include money laundering through last year and charges of lying to investigators after his work for the campaign.
The indictment outlines a detailed scheme over years under which Manafort and Gates failed to disclose their lobbying efforts on behalf of former Ukrainian president Victor Yanukovych and a complicated system of off-shore banking accounts that they used to funnel funds into the US and evade paying taxes.
Manafort laundered more than 18 million dollars and Gates laundered 3 million, the indictment charges. They allegedly used the funds to purchase US real estate and other goods.
Manafort lied about the existence of his off-shore accounts as recently as October 2016 and lied about his lobbying activities late last year and earlier this year, the indictment said.
Meanwhile, a former foreign policy adviser for Trump's presidential campaign has pleaded guilty to lying to the FBI about his contacts with Russia, according to documents unsealed Monday.
While working for the campaign, George Papadopoulos met with a professor with ties to the Russian government about "dirt" and "thousands of emails" that were supposedly damaging to Trump's Democratic rival Hillary Clinton, according to legal documents. He has admitted to lying to the FBI about the timing of his meetings with the Russians.
He allegedly used connections with the professor and an unnamed Russian woman whom he described as Russian President Vladimir Putin's niece to attempt to set up meetings between the campaign and Russian government officials.
Papadopoulos also had repeated contacts with an apparent official from Russia's Foreign Ministry about setting up contact with campaign officials and a possible trip by Trump to Russia.
A campaign supervisor reportedly told Papadopoulos that he should try to travel to Russia to meet with government officials, but he never did so.
He was arrested in July and pleaded guilty earlier this month to lying to investigators.
The White House insisted the cases had nothing to do with Trump or his campaign.
Spokeswoman Sarah Sanders downplayed Papadopoulos' role in the campaign, stressing he was a "volunteer" not a campaign staffer and that his outreach was not conducted in an official capacity.
The developments stem from an ongoing probe led by ex-FBI director Robert Mueller, who was appointed in May to lead the investigation into Russian efforts to influence the 2016 election and related matters.
Manafort, a Washington lobbyist who headed Trump's presidential bid from May to August 2016, stepped down as Trump's campaign chief after allegations that he had received large payments linked to Ukraine's former pro-Russian government.
Manafort participated in a June 2016 meeting with Trump's son Donald Trump Jr and son-in-law Jared Kushner with a Russian lawyer in an apparent bid to acquire damaging information about Clinton.
The two highest-ranking Democrats in Congress used the charges to call for bipartisan support for an independent investigation into Russian interference in the last US election.
"The President must not, under any circumstances, interfere with the special counsel's work in any way," Senate Minority Leader Chuck Schumer said. "If he does so, Congress must respond swiftly, unequivocally, and in a bipartisan way to ensure that the investigation continues."