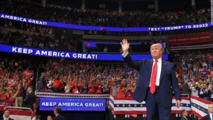 "Very shortly we will be announcing where the first rally is going to be, and it will be before the end of this month," Tim Murtaugh, director of campaign communications told Fox News.
Trump's large campaign rallies were a staple of his 2016 presidential campaign and he often brags about filling stadiums during the events.
The coronavirus pandemic has stopped the signature rallies since March as the president has called for a speedy renewal of campaign activities.
The announcement comes as the nation is reopening after months of coronavirus lockdown measures, however public health officials have opposed large gatherings like sporting events or concerts, especially indoor gatherings where the risk of infection is likely higher.
Many areas in the US are seeing spikes in infections as restrictions are loosened and people gather, often flouting social distancing guidelines.
There are also renewed concerns of a second wave of coronavirus infections in the autumn and winter as people return to work and hundreds of thousands of people have participated in national protests against racism.
Notepad