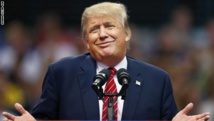 Trump had asked the Department of Defence to organize a military parade to take place around the 100th anniversary of the armistice that ended World War I and the US Veterans' Day public holiday.
He accused local politicians "who run Washington, D.C. (poorly)" of torpedoing the idea by setting the price too high.
"When asked to give us a price for holding a great celebratory military parade, they wanted a number so ridiculously high that I cancelled it," Trump said on Twitter.
He said he will mark the day by attending a parade scheduled to be held at Andrews Air Force Base outside Washington and will go to the Paris parade celebrating the end of the war on November 11, the anniversary of the armistice.
There is still a chance a large-scale military parade will take place in Washington, Trump said, possibly next year "when the cost comes WAY DOWN."
DC Mayor Muriel Bowser responded to Trump's accusation in a tweet.
"Yup, I'm Muriel Bowser, mayor of Washington DC, the local politician who finally got thru to the reality star in the White House with the realities ($21.6M) of parades/events/demonstrations in Trump America (sad)," she wrote.
The mayor's office didn't respond to a request from dpa for additional information.
The Pentagon said Thursday the parade had been pushed back until at least 2019.