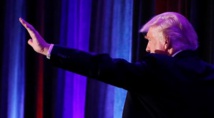 "If it doesn't happen, maybe it will happen later," Trump told reporters at a photo opportunity with South Korean President Moon Jae In at the White House.
He said a decision will be made soon on any changes to the date, but declined to mention specific demands he has made or whether he has spoken with Kim. He reiterated his demand that the peninsula be denuclearized.
Secretary of State Mike Pompeo said later Tuesday that the State Department is moving forward with preparations for the summit.
"We are continuing to prepare both our team and the White House so that, in the event that the summit takes place on June 12, we are fully prepared with the mission statement having not changed at all," Pompeo said at a press briefing.
The United States is committed to denuclearization and "creating conditions such that the North Korean regime no longer threatens the world," he said.
Last week Pyongyang abruptly cancelled scheduled talks with South Korea, citing Seoul's joint military exercises with the US and threatened to cancel the summit if "unilateral nuclear abandonment" was a condition.
Moon acknowledged that there was scepticism about the summit but added he had "every confidence" that Trump could make a deal that formally ends the Korean War and brings "peace and prosperity" to North Korea.
The US president said he has been in touch not only with South Korea, but also China and Japan, which are willing to invest in "helping make North Korea great."
Kim will be "extremely happy" if a deal can be reached, Trump predicted, adding that Kim "will be safe" and his country "will be rich."
Earlier Tuesday, South Korea's top security official said he is "99.9-per-cent" confident the ground-breaking summit will take place. Chung Eui-yong was speaking on board a plane ahead Moon's arrival in the US, according to South Korean news agency Yonhap.
"We're just preparing for many different possibilities," Chung said, according to Yonhap.
The summit, which would mark the first time a sitting US president holds talks with a North Korean leader, follows Moon's own summit with Kim last month.
Moon and Kim met at the border between the two Korean states and agreed to work towards a permanent peace treaty and the elimination of nuclear weapons on the peninsula.
Notepad