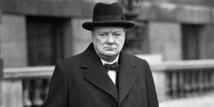 Citing a historical inaccuracy, Trump said that Churchill would "often times go to a roof in London and speak" during Nazi bombardments of the city during World War II.
"He always spoke with calmness," Trump said during a campaign rally in Michigan, adding: "We did it the right way and we've done a job like nobody."
The president is under fire after he admitted in March that he was intentionally downplaying the severity of the new coronavirus in order to avoid causing panic, according to an upcoming book by noted journalist Bob Woodward.
"We have to be calm we don't want to be crazed lunatics," Trump said in Michigan.
Churchill observed Nazi bombing raids on London from a rooftop, but he is not known to have made speeches during the raids.
Earlier on Thursday, Trump was asked during a press conference why he "lied" to the American public over the severity of the virus.
"I didn't lie. What I said is we have to be calm. We can't be panicked," Trump said.
According to the audio of an interview between Woodward and Trump, the president seemed to be aware by early February of how the virus is transmitted, even as he dismissed the idea of wearing masks for months afterwards.
The US, one of the hardest hit nations in the pandemic, has so far recorded the highest death toll, over 190,000, and has the highest global caseload with more than 6 million infections.