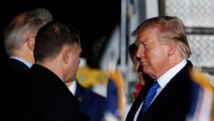 "Congratulations to my friend President @AndrzejDuda of Poland on his historic re-election! Looking forward to continuing our important work together across many issues, including defence, trade, energy, and telecommunications security!" Trump said on Twitter.
Conservative Duda won the run-off against liberal Warsaw Mayor Rafal Trzaskowski by a narrow margin.
The Polish president visited the White House in late June, shortly before the first round of Poland's presidential ballot.
During the visit, the heads of state confirmed the US would increase the number of troops it has stationed in Poland. Trump also said some troops that are to leave Germany may be relocated to Poland.
In Poland, the visit was criticized by Duda's opponents as an attempt to harness the country's foreign policy to support his re-election campaign.