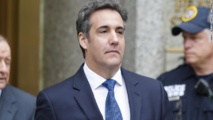 Trump's former lawyer, Michael Cohen, admitted the previous day to misstating information to cover up the fact that a Trump Tower real estate project was under consideration in Moscow after the US Republican Party's presidential primaries had begun in 2016.
The plea deal was announced by the office of Robert Mueller, the special counsel investigating allegations of Russian meddling in the presidential election that Trump won.
"Lightly looked at doing a building somewhere in Russia," Trump said on Twitter. "Put up zero money, zero guarantees and didn't do the project. Witch-hunt!"
Cohen accepted the plea deal on Thursday, admitting that he had made "false statements."
Trump maintains an outwardly amicable relationship with Russian President Vladimir Putin, despite tensions between their countries.
After Cohen accepted the plea deal, Trump cancelled a meeting that had been planned with Putin for this weekend at the G20 summit in Buenos Aires.
In a tweet about the cancellation, Trump cited a recent clash between the Russian coastguard and the Ukrainian navy near the disputed Crimea region.
In the incident, the Russian side opened fire and captured several Ukrainian vessels, including 24 Ukrainian nationals, evoking condemnation from the West, including the United States.
The Russian Foreign Ministry suggested that the actual reason for Trump's cancellation was domestic US political tensions.