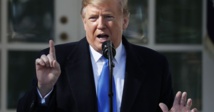 "The Caliphate is ready to fall. The alternative is not a good one in that we will be forced to release them.
"The US does not want to watch as these ISIS fighters permeate Europe, which is where they are expected to go.
"We do so much, and spend so much - Time for others to step up and do the job that they are so capable of doing. We are pulling back after 100 per cent Caliphate victory!"
His tweets came after Vice President Mike Pence called on other countries to pick up the slack in Syria as US troops are withdrawn.
On the sidelines of the Munich Security Conference, he told reporters that the US wanted other countries to offer troops and other resources to help secure Syria.
"We are asking other nations to join with us and provide the resources and the support and the personnel necessary to secure the area and prevent [Islamic State] or any other extremist organization from rising up and retaking their territory," he said.
Trump caused widespread concern in December when he suddenly announced that the US would withdraw its troops from Syria and that Islamic State had already been defeated.
Critics warned that the terrorist group had not been defeated and that a pull-out could lead to a resurgence, with US allies in the region not equipped to handle the threat alone.
The Syrian Democratic Forces (SDF), a US-backed Kurdish-led militia launched an offensive last week to dislodge Islamic State from the village of Baghuz, the only area still under its control, near the Iraqi border.
There are also fears that without the US presence, Turkey could launch an offensive against the SDF, which is dominated by the Kurdish People's Protection Units (YPG).
Turkey regards the YPG as an offshoot of the separatist Kurdistan Workers' Party (PKK), against which it has fought a decades-long war in its south.