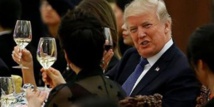 Referring to the impeachment probe, he predicted
Democrats'
"brazen attempt to overthrow our government will produce a backlash at the ballot box, the likes of which they have never, ever seen before in the history of this country."
"These are bad people," Trump told his supporters minutes after suggesting he is leading his Democratic rivals in the polls, even though a slew of recent surveys show him trailing the five leading
Democrats
- nationally and in many key swing states.
"They want to impeach our president. I don't think so," Trump said. "I think we're going to have a turnout the likes of which we've never seen in the history of our country."
Political strategists and pollsters on both sides of the aisle agree that next year's election will likely come down to which general election candidate can bring out base voters to the polls in the six or seven battleground states expected to decide the
Electoral College
. Trump and his campaign are increasingly zeroing in on
House Democrats
and former Vice President
Joe Biden
, one of his party's front-runners.
The Trump team has alleged Biden and son Hunter engaged in "embezzlement" and "corruption" in
Ukraine
even though neither has ever faced as much as a probe about their actions there while the senior Biden was vice president.
Trump spent several minutes Thursday night mocking
Hunter Biden
before turning to his father. "He was never considered a good senator. ... And he was only considered a good vice president because he knew how to kiss
Barack Obama's
ass," the president said to roars from the crowd followed by a "U-S-A, U-S-A" chant.
Eric Trump
, a few minutes before his father hit the stage, led a "Lock him chant" about the Bidens, before adding, "We don't need to lock him up. We're just going to beat the hell out of him. We're going to win."
In 2016, Trump's crowds chanted, "Lock her up," at Democratic nominee
Hillary Clinton
over her use of a personal email server while serving as secretary of State.
Trump returned to the campaign trail for the first time since a
September 16
rally in
Rio Rancho, N.M.
, eight days before Speaker
Nancy Pelosi
announced the launch of a formal impeachment inquiry over his
July 25
request that
Ukraine's
new president "do us a favor" by investigating Joe and
Hunter Biden
over alleged corruption charges in that country. (Neither has ever been charged.)
His address to Gopher State supporters comes as public opinion continues to turn against him on whether he should be impeached by the House - and even removed by the
Senate
.
A
Fox News
survey released Wednesday showed 51 per cent of Americans support impeachment and removal, with another 4 per cent backing impeachment without removing him from office. In June, only 42 per cent supported impeachment and removal.
The Fox poll, which Trump angrily dismissed in a Thursday morning tweet, was chock full of bad news for the president and his reelection team. On support for impeachment, it found increases since July among
Democrats
(11 points), rural whites (10 points), white men lacking college degrees (8 points),
Republicans
(5 points), white evangelicals (5 points) and independents (3 points).
When Trump emerged from behind a curtain at the
Target Center
, home to the NBA's
Minnesota Timberwolves
, he was continuing an early-stage reelection strategy of trying to flip a handful of states he lost in 2016.
His campaign aides acknowledge they are looking for an
Electoral College
insurance policy in case the president is unable to win the same swing states that backed him three years ago. The new targets also include
New Mexico
and
New Hampshire
, where he has already held reelection rallies.
Trump lost
Minnesota
- a state in which he did not visit once during the 2016 campaign - by just less than 2 points to
Hillary Clinton
. But during an event at a trucking company earlier this year in
Duluth
, he signaled to Minnesotans he views their state as winnable.
"I think we can win," he told reporters Thursday as he left the
White House
. "It's been a long time since a Republican won." (
Minnesota
has backed the Democratic presidential nominee in every election going back to 1976, the party's current longest winning streak.)
"This has been a very special state," he said in
Rochester, Minn.
, in April. "And we almost won it. One more speech. One more speech."
GOP
pollster
Neil Newhouse
said Thursday that it was "way too early to assess if the president can win
Minnesota
, but the campaign is doing what it can in a few states to expand the playing field and test the market."
"Based on the president's narrow wins in
Michigan
and
Wisconsin
in 2016, it's certainly worth a shot to try to move numbers in
Minnesota
," added Newhouse, the leading pollster for Republican
Mitt Romney's
2012 presidential bid. "While
Minnesota
voters don't have a recent track record of electing
GOP
candidates to statewide federal office, they have voted
GOP
at the state level _ for governor, for example."
Minnesota
was a down-ballot battleground during the midterms and will be again next fall. The state's congressional districts typify the partisan realignment happening along rural and suburban lines that Trump's presidency has only sped up.
Democrats
picked up two House seats outside
the Twin Cities
last fall, with
Angie Craig
defeating GOP Rep.
Jason Lewis
in a district Trump narrowly carried, and
Dean Phillips
unseating Republican
Erik Paulsen
in an affluent, well-educated district that backed Clinton. Lewis, sometimes called a Trump "mini me" because of offensive comments he's made about women, is now running for
Senate
against Democratic-Farmer-Labor Sen.
Tina Smith
. Inside Elections with
Nathan L. Gonzales
rates that race Solid Democratic.
But the Gopher State was also home to two of the three Democrat-held seats that the
GOP
flipped last fall.
Pete Stauber
won the
8th District
and
Jim Hagedorn
took the
1st District
, two ancestrally Democratic seats that were open last cycle.