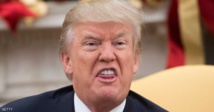 The president, who has made an America-first policy a cornerstone of his administration, reiterated his belief that European states like Germany are investing too little in their defence while exploiting the US on trade.
Trump also said he believed his brand of populism would play well if he were to run in Europe.
"I could be the most popular person in Europe," Trump said. "I could run for any office if I wanted to. But I don't want to. I want people to treat us fairly, and they're not."
Trump made the comments after Mitt Romney, an incoming US senator and the Republican party's presidential nominee in the 2012 election, wrote a column mentioning Trump's low approval ratings especially in Europe.
"In a 2016 Pew Research Center poll, 84 per cent of people in Germany, Britain, France, Canada and Sweden believed the American president would 'do the right thing in world affairs,'" Romney wrote.
"One year later, that number had fallen to 16 per cent," he added.
The poll showed only 10 per cent of those in Germany would trust Trump to do the right thing.