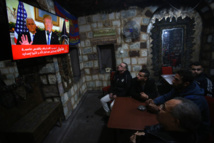 The Jerusalem Embassy Act of 1995 declared that Jerusalem had been the capital of Israel since 1950 and noted that the city has been administered entirely by Israel since it captured East Jerusalem in the 1967 Six Day War.
It calls for Jerusalem to "remain an undivided city in which the
rights of every ethnic and religious group are protected," for Jerusalem to be recognized as the capital of Israel and for the embassy to be moved by May 31, 1999.
It allows however for the president to sign a waiver every six months to suspend action "to protect the national security interests of the United States."
Every president since 1995 has regularly done so. When Trump signed the waiver six months ago, he noted his intention to eventually move the embassy and his actions Wednesday begin a process that is expected to take years.
Despite Trump signing a proclamation on Jerusalem's status as the capital, US officials said he would sign the Jerusalem Embassy Act waiver because financial penalties against the State Department would go into place if the embassy is not yet opened and the waiver has not been signed.
Construction of a new embassy requires stringent security measures and must meet other requirements that will take at least three to four years, if not longer, officials said.