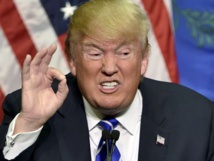 Trump, who withdrew in May from the 2015 international nuclear agreement with Tehran, addressed Rowhani via social media: "NEVER, EVER THREATEN THE UNITED STATES AGAIN OR YOU WILL SUFFER CONSEQUENCES THE LIKES OF WHICH FEW THROUGHOUT HISTORY HAVE EVER SUFFERED BEFORE."
He said that the United States is "NO LONGER A COUNTRY THAT WILL STAND FOR YOUR DEMENTED WORDS OF VIOLENCE & DEATH."
"BE CAUTIOUS!" Trump added.