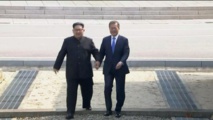 "Things are going very well," Trump said in a tweet, adding that a time and location for his own meeting with North Korean leader Kim Jong Un "is being set."
Trump said he also spoke by phone with Japanese Prime Minister Shinzo Abe "to inform him of the ongoing negotiations."
Trump's conversations with the Asian leaders came as the governments of Iran and Russia reacted to Friday's historic inter-Korean Summit.
Iran warned the leaders of North and South Korea to keep Trump out of their reconciliation efforts.
"The American government has shown with the Iran nuclear deal that it does not hold to international agreements and is therefore not trustworthy," Iranian Foreign Ministry spokesman Bahram Ghassemi said.
Trump has complained bitterly about the 2015 deal, which aims to prevent Iran from developing a nuclear weapon. He has threatened to effectively withdraw from it next month unless its "flaws" are reworked.
Mike Pompeo, Trump's new top diplomat and a long-time critic of the Iran nuclear deal, said Friday on his first full day as secretary of state that the United States is "unlikely" to stick with the deal unless shortcomings of the agreement are addressed.
Russia also weighed in on the talks on the Korean peninsula, saying it is eager and open to participate in discussions.
Deputy Foreign Minister Igor Morgulow told Russia's Interfax news agency that the traditional six-party format composed of Russia, China, the United States, Japan and both Koreas is optimal and without alternative.
North and South Korea agreed at the summit to pursue trilateral talks with the US, or quadrilateral meetings with the US and China, to declare an end to the Korean War, turn the armistice into a peace treaty and establish "a permanent and solid peace regime."
Trump said Friday two sites are under consideration for his possible meeting with Kim, which would take place "in the coming weeks."
The thaw this year follows a tense 2017, in which multiple missile tests by North Korea prompted international outcry and an exchange of insults between Trump and Kim.
Trump now credits his tough talk and the relationship he has built with Chinese President Xi Jinping for bringing abouot changes in Kim's posture. The US president also says that "maximum pressure," including sanctions and other economic isolation, will continue until North Korea completes denuclearization.