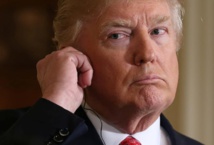 Special counsel Robert Mueller was appointed last year by the Justice Department to lead an outside probe after Trump fired FBI chief James Comey, an action that is also under investigation as possible obstruction of justice.
Speaking by telephone with Fox News on Thursday, Trump blasted the investigation as "conflicted" because some of the special counsel staff are Democrats, even though Mueller and his supervisor, Trump-appointed Deputy Attorney General Rod Rosenstein, are Republicans.
The Justice Department should instead be investigating Comey and "the corruption at the top of the FBI," Trump said.
"And our Justice Department, which I try and stay away from - but at some point, I won't - our Justice Department should be looking at that kind of stuff, not the nonsense of collusion with Russia," he said. "There is no collusion with me and Russia, and everyone knows it."
Asked by a Fox News host if he would agree to an interview with Mueller's office, Trump said, "well, if I can," before alleging conflicts of interest among the investigators.
The White House recently said that Trump has the right to fire a special counsel.
Attorney General Jeff Sessions, a then-senator who was one of the first Republican elected officials to support Trump in 2015, recused himself from the Russia probe immediately on taking office in March 2017, leaving Rosenstein to appoint Mueller two months later.