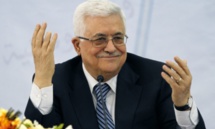 During their first phone call since Trump's inauguration in January, the US president invited Abbas "to visit the White House soon to discuss ways to resume the (Palestinian-Israeli) political process," Wafa quoted Abbas's spokesman as saying.
The spokesman, Nabil Abu Rudeina, said that Trump stressed his "commitment to a peace process that would lead to a real peace between Palestinians and Israelis", Wafa reported.
Abbas told Trump that peace was a "strategic choice" for the Palestinian people that should lead to the "establishment of a Palestinian state alongside Israel".
Trump received Israeli Prime Minister Benjamin Netanyahu at the White House in mid-February.
At that meeting, Trump broke with decades of US policy by saying he was not bound to the two-state solution for ending the Israeli-Palestinian conflict.
The peace process has been deadlocked since April 2014 following the collapse of indirect negotiations led by then US secretary of state John Kerry.
Since Trump came to power, having pledged to lead the most pro-Israel US administration in history, Palestinian officials have been quietly alarmed by their lack of access to senior figures in the White House.
On Tuesday, US ambassador to the United Nations Nikki Haley met for the first time with the Palestinian envoy to the world body, Riyad Mansour.
After the talks, Haley tweeted that the Palestinians should "meet with Israel in direct negotiations rather than looking to the UN to deliver results that can only be achieved through the two parties".
Israel has long favoured direct bilateral talks, while the Palestinians argue they need the international community to ensure Israel follows through on its pledges.
On Thursday Trump's controversial nominee as ambassador to Israel, David Friedman, was confirmed by the Senate's Foreign Relations Committee.
Friedman is a longtime supporter of Israeli settlement building in the occupied West Bank and Palestinian officials have privately expressed dismay over his appointment.
Trump has previously suggested he would move the US embassy from Tel Aviv to Jerusalem, while Israeli rightwingers have encouraged Netanyahu to use Trump's election as an opportunity to formally annex parts of the West Bank into Israel.
In December senior Palestinian official Saeb Erekat told journalists that some of Friedman's preferred policies would lead to "chaos".
"I look David Friedman and Trump in the eye and tell them -- if you were to take these steps of moving the embassy and annexing settlements in the West Bank, you are sending this region down the path of something that I call chaos, lawlessness and extremism," he said.
Friedman still needs to be approved by the full Senate.