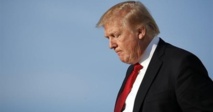 During his time in Europe, Trump also waded into internal issues, appearing to take a hardline approach on Brexit, sparking embarrassment for British Prime Minister Theresa May.
Trump, in an interview with US broadcaster CBS from his golf course in Scotland just before the Helsinki summit, said he had "low expectations" for the highly anticipated meeting in Finland.
Hanging over the summit is the allegation of Russian meddling in the 2016 US elections to help Trump get elected, an issue the US leader tries to avoid.
When asked by the CBS interviewer who Trump believes is his "biggest foe globally right now," the president responded with a list.
"Well, I think we have a lot of foes. I think the European Union is a foe, what they do to us in trade. Now, you wouldn't think of the European Union, but they're a foe," Trump said.
"Russia is foe in certain respects. China is a foe economically, certainly they are a foe. But that doesn't mean they are bad. It doesn't mean anything. It means that they are competitors," he said, adding that the EU "is very difficult."
"I have big problem with Germany," Trump said citing an energy pipeline deal that country made with Russia, repeating a talking point of the past 10 days.
"You're supposed to be fighting for someone and that someone gives billions of dollars to the one you are guarding against," Trump said, referring to NATO, as he regularly protests European nations are not spending enough on defence.
"There is a lot of anger at the fact that Germany is paying Russia billions of dollars," Trump said, adding quickly: "I also think it is very bad thing for Germany. What, are they waving a white flag?"
European Council President Donald Tusk took to Twitter to respond to Trump: "America and the EU are best friends. Whoever says we are foes is spreading fake news."
Just ahead of him landing in Helsinki, Trump attacked the media and the opposition Democrats at home, raising eyebrows as he was about to meet the authoritarian leader of Russia.
"Much of our news media is indeed the enemy of the people and all the Dems [...] know how to do is resist and obstruct!" Trump said, blaming them for the "hatred and dissension in our country."
Trump's meeting with Putin comes just days after an indictment was filed in the US against 12 Russian military intelligence officers for conspiring to interfere in the 2016 presidential elections by hacking into the computers of the Democratic National Committee, Hillary Clinton's campaign and releasing emails.
He was asked whether he would request the extradition of the 12 Russians.
"Well, I might. I hadn't thought of that, but I certainly, I'll be asking about it," Trump said.
The president's national security advisor, John Bolton, told broadcaster ABC News that the US does not have an extradition treaty with Russia.
"I think it's pretty silly for the president to demand something that he can't get legally," Bolton said. He claimed the timing of the indictment would "strengthens the president's hand" going into the meeting in Helsinki with Putin.
Bolton said Putin told him recently in Moscow that the "Russian state was not involved" in the meddling, but added that he found this claim "hard to believe."
He conceded the US is concerned Russia might try to meddle again but declined to answer a direct question about whether Trump should trust Putin.
Bolton tried to downplay concerns the US might recognize the Russian annexation of Crimea from Ukraine and cut a deal with Putin in Syria which would see the US withdraw forces from the war-torn country.
"That is not the policy of the United States," Bolton said about Crimea and added that the US would remain in Syria "as long as the Iranian menace continues throughout the Middle East."
The White House has been working to get a message out not to expect tangible deliverables from the Helsinki meeting.
"I go in with low expectations. I'm not going with high expectations," Trump said, adding that sitting face-to-face with the Russian leader would achieve "nothing bad, and maybe some good."
In another interview to be broadcast by Britain's ITV from Monday, Trump said he believed he "could probably get along very well" with Putin.
"Somebody said, are you friends or enemies?" celebrity television presenter Piers Morgan quoted Trump as telling him in the interview.
"Well, it's too early to say, but right now I say we're competitors," Trump said, according to Morgan's article for the Daily Mail.