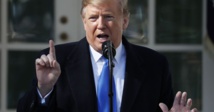 Within the ranks of the rival Democratic Party there are calls for impeachment, though party leaders have been more cautious, saying the case would have to be airtight before proceeding, to make sure a sufficient number of Republicans could be brought on board.
"It's a dirty word impeach, it's a dirty, filthy, disgusting word," Trump said. "There was no high crime and no misdemeanor, so how do you impeach on that?" the president asked rhetorically, referring to the constitutional language.
Special counsel Robert Mueller formally closed Wednesday his investigation into the Russian meddling in the 2016 president election. His full report, with some redactions, was made public in April.
Mueller read a rare public statement, repeating some of the findings as he closed the probe, and indicated he does not want to testify to Congress.
Mueller said his office did not clear or directly accuse the president of obstructing justice during the probe, noting a Department of Justice opinion prohibiting the indictment of a sitting president with a crime.
"Russia did not help get me elected. I got me elected," Trump said.
Trump went on the attack against Mueller in his latest remarks, accusing him of being "conflicted."
He said Mueller was biased because Trump did not choose him to lead the Federal Bureau of Investigation and also said the two had a business dispute some years ago.
"He's somebody who didn't like Donald Trump," the president said.