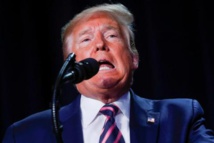 Trump has repeatedly sought to aggravate Sanders supporters against the Democratic party in an apparent attempt to garner their votes if Sanders fails to get the Democratic presidential nomination.
During the 2016 Democratic presidential nomination process, Sanders supporters sparred with the Democratic Party over accusations that party officials sought to boost the candidacy of former secretary of state Hillary Clinton over the Vermont senator.
Sanders' front-runner status has worried moderate Democrats who believe the self-described democratic socialist is too left-wing to defeat US President Donald Trump in national elections.
Sanders is trailed by former vice president Joe Biden and former mayor Pete Buttigieg, two moderate candidates.
On Sunday Buttigieg claimed that there are "irregularities" with Nevada caucus results.
Hari Sevugan, Buttigieg's deputy campaign manager, said internal campaign data shows Buttigieg with a "razor-thin margin for second place in Nevada," according to a statement reported by NBC News.
"Due to irregularities and a number of unresolved questions we have raised with the Nevada Democratic Party, it's unclear what the final results will be," Sevugan added.
With 50 per cent of precincts reporting, Buttigieg is in third place, behind former vice president Joe Biden, according to results released by the Nevada Democratic Party.