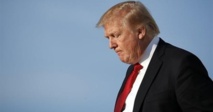 The proclamation says the arrival of thousands of migrants currently heading toward the US-Mexico border in a number of caravans "will contribute to the overloading of our immigration and asylum system."
About 2,000 "inadmissible aliens" enter each day at the US-Mexico border, the document says.
The document has been met by criticism from immigration rights groups, which say it clashes with the Immigration and Nationality Act that says anyone can apply for asylum whether or not at a designated port of arrival.
The American Immigration Council said Congress previously has determined that people are not required to ask for asylum at a port of entry.
The American Civil Liberties Union (ACLU) and two other rights groups on Friday sued to block the new restrictions, arguing that the policy violates federal immigration law.
"Neither the president nor his cabinet secretaries can override the clear commands of US law, but that's exactly what they're trying to do," said Omar Jadwat, director of the ACLU's Immigrants' Rights Project.
"This action undermines the rule of law and is a great moral failure because it tries to take away protections from individuals facing persecution - it's the opposite of what America should stand for," Jadwat said in a blog post.
The UN's refugee agency, UNHCR, blamed processing delays at the US-Mexico border for illegal entry, saying a "long-standing insufficient reception capacity" was forcing many asylum seekers to cross the border irregularly.
UNHCR said in a statement it expects the US to make sure refugees are received promptly and without obstruction.
Meanwhile in Mexico City, a caravan of more than 5,000 Central American migrants heading for the US was planning to continue its journey on Saturday, a local human rights commission said.
The group, which has been resting in the Mexican capital for several days, intends to trek nearly 3,000 kilometres to Tijuana to cross into the US.
That route is regarded as safer than a shorter one which would have taken the migrants to the border city of Reynosa at 930 kilometres from Mexico City.
A few hundred members of the caravan already left the capital for Tijuana on Friday.
The caravan left Honduras on October 13 and was joined by thousands more people along the way. Last week, it reached Mexico City, where some of the migrants have been studying how to apply for asylum in the US.
Two other caravans are also travelling through southern Mexico towards the US.
About 200 Salvadorans meanwhile illegally entered Mexico by crossing Suchiate River, which separates the country from Guatemala, police said.