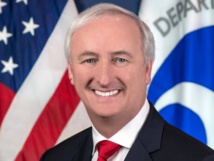 Jeffrey Rosen
US media reported Monday that Rosenstein, who had often been the subject of Trump's ire, was set to leave his post in mid-March.
Rosen is currently the deputy secretary at the Department of Transportation and prior to that was a partner at the law firm Kirkland and Ellis, where he worked for 30 years.
His nomination comes after William Barr was confirmed as attorney general last week, replacing Jeff Sessions, whom Trump forced to resign in November. Barr also worked at Kirkland and Ellis.
Rosenstein was responsible for appointing special counsel Robert Mueller to investigate Russian meddling in the US elections.
He hit the headlines again in recent days, after former acting FBI director Andrew McCabe said he had discussed trying to oust Trump from office in 2017 with Rosenstein.
Alarmed by Trump's firing of Comey, Rosenstein had offered to wear a wire to meetings with the president and discussed recruiting cabinet members to invoke the 25th amendment to have Trump removed, McCabe said.
Rosenstein has denied the allegations, which caused Trump to fire off several angry tweets this week.
"He [McCabe] and Rod Rosenstein, who was hired by Jeff Sessions (another beauty), look like they were planning a very illegal act, and got caught," the president wrote Monday.