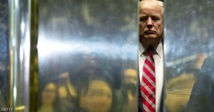 Trump will travel to the southern border "to meet with those on the frontlines of the national security and humanitarian crisis," White House Press Secretary Sarah Sanders tweeted on Monday. Details of the trip will follow, she added.
Trump has stood firm on his demand that Congress provide 5.6 billion dollars in funding for a wall on the US-Mexico border to help control illegal immigration, human trafficking and the flow of illegal drugs.
The funding demand has put him at odds with Democrats, who say 5.6 billion dollars is too much and a wall is applying an old-fashioned solution that won't fix the problem.
The impasse caused a partial government shutdown that began December 21 after the two sides dug in their heels, leaving funding bills for about one-quarter of the US government hanging.
Several hundred thousand government employees are on furlough without pay, while others are working but not receiving pay checks. Among the departments affected are those that oversee transportation, agriculture, commerce, justice, homeland security and state.