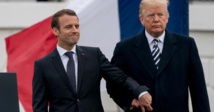 Trump, speaking during a meeting with French President Emmanuel Macron at the White House, said: "We're going to be having a meeting with Kim - that will be very soon. We have been told directly that they would like to have the meeting very soon. We think that's a great thing for the world."
On Friday, Kim and South Korean President Moon Jae In are set to meet in the "truce" village of Panmunjom, in the heavily militarized zone on the countries' border.
Moon is hoping to raise the issue of denuclearization with Kim.
At a press conference with Macron, Trump said the United States has made no concessions to North Korea, and his goal is to ensure the reclusive nation's denuclearization.
Asked what he meant by denuclearization, he said: "It means they get rid of their nukes. It's very simple."
The US president has previously mentioned late May or early June as a possible date for his talks with Kim. CIA Director Mike Pompeo, Trump's pick for secretary of state, secretly visited Pyongyang and met the North Korean dictator, the White House confirmed last week.
"Kim - he really has been very open. And I think very honourable from everything we're seeing," Trump said earlier in the day.
Asked at the press conference about his charitable description of the man he once disparaged as "Little Rocket Man," Trump only said: "I hope we will be able to deal in a very open and honourable fashion with North Korea."
He called the sanctions imposed on North Korea the "toughest we've ever imposed on any country," and warned that Washington would walk away from the table if the discussions were not productive.
"Maybe it will be wonderful, maybe it won't," Trump said of the likely meeting with Kim, who last year called the US president a "dotard."
Less than a year back, North Korea was threatening that its missiles could reach anywhere in the US. Trump shot back with threats of "fire and fury."
On Tuesday, Trump said: "I think we have a chance of doing something special with respect to North Korea."
However, at the press conference, he cautioned: "It would be very easy for me to make a simple deal and claim victory. I don't want to do that. I want them to get rid of their nukes."