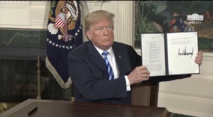 Diplomats from Tehran would consult with the five remaining negotiating partners in the coming weeks about moving forward with the deal, he said, adding that Iran's nuclear energy organization was already on standby to restart unlimited uranium enrichment.
Trump called the agreement "defective at its core" as he announced his decision to exit the deal and immediately reinstate economic sanctions against Iran.
He said the "decaying and rotten structure of the current deal" was not firm enough to prevent Iran developing a nuclear bomb, without giving any details on a potential alternative to the agreement.
Trump has long opposed the deal, formally known as the Joint Comprehensive Plan of Action (JCPOA), and promised as a presidential candidate that he would withdraw the US.
On Tuesday he said the deal meant that if nothing was done, Iran, which he called the world's leading state-sponsor of terrorism, would "be on the cusp of acquiring the world's most dangerous weapons."
The agreement - sealed by Trump's predecessor, president Barack Obama, with the support of China, Russia, Germany, France and Britain - eased sanctions on Tehran in exchange for commitments to halt what Western powers feared was a nuclear weapons programme.
In a statement posted on Facebook, Obama said Trump's decision was a "serious mistake," and that the "consistent flouting of agreements that our country is a party to risks eroding America's credibility, and puts us at odds with the world's major powers."
EU foreign policy chief Federica Mogherini said the European Union was "determined to preserve" the deal. She said the EU was "fully committed" to its full implementation, noting her concern over new sanctions.
In their joint statement, French President Emmanuel Macron, German Chancellor Angela Merkel and British Prime Minister Theresa May said they were "committed to ensuring the agreement is upheld," including ensuring economic benefits to the Iranian people linked to the deal.
Russia's Foreign Ministry said Moscow was "deeply disappointed."
"Iran has strictly followed its obligations," in accordance with the agreement, the Russian Foreign Ministry said.
UN Secretary General Antonio Guterres said he was "deeply concerned" by Trump's decision.
Two countries that applauded the decision were Saudi Arabia, Iran's regional rival, and Israel, which has always opposed the deal as not doing enough to curb Iran's ability to develop nuclear weapons or its ballistic missile programme.
Saudi Arabia called on the international community to adopt a firm and united stance towards Iran while Israeli Prime Minister Benjamin Netanyahu said Israel fully supported Trump's "bold decision."
Trump said that even as the US withdrew from the deal it would continue to work with its allies to find a "real, comprehensive and lasting solution to the Iranian nuclear threat."
This will include efforts to eliminate the threat of Iran's ballistic missile programme, to stop its terrorist activities and to block its "menacing" activity across the Middle East, he said.
In the meantime, Trump said powerful sanctions would go into "full effect," adding that if the regime continues its nuclear aspirations, "it will have bigger problems than it has ever had before."
National Security Adviser John Bolton said the US withdrawal was immediate, but there would be "wind down" periods of 90 to 180 days for existing contracts under US jurisdiction.
In a conference call with reporters, Bolton also said when Trump recently met with Macron and Merkel he stressed one of his fundamental criticisms of the deal, which is that it addresses only a limited aspect of what he said was Iran's unacceptable behaviour.
He said the deal allowed Tehran to raise money that it used to fuel the activity that it is undertaking now in Syria and support for terrorist groups in the region and the world, like Hezbollah and Hamas.
"To really deal with this threat and to try to bring peace and stability to the Middle East, and to relieve the world of the nuclear threat, you have to go after the whole thing," Bolton said.