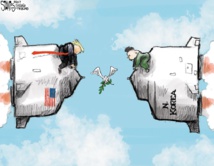 The sanctions were renewed under an executive order reauthorizing a "national emergency" originally put in place in 2008.
After his talks with North Korean leader Kim Jong Un in Singapore on June 12, Trump had said that sanctions would not be lifted on Pyongyang until further progress was made on its denuclearization.
However, he also tweeted that, "Everybody can now feel much safer than the day I took office. There is no longer a Nuclear Threat from North Korea."
Friday's order said that the "existence and risk of proliferation of weapons-usable fissile material on the Korean Peninsula and the actions and policies of the government of North Korea continue to pose an unusual and extraordinary threat to the national security, foreign policy, and economy of the United States."
Meanwhile, the Pentagon said it had indefinitely suspended some joint military exercises with key ally South Korea.
Trump apparently surprised Seoul as well as the US military when he announced the cancellation of joint war games on June 12 following the Singapore summit.
Repeating North Korean arguments, Trump said the games were "provocative" to Pyongyang and added that they were "very expensive." He also speculated about the eventual withdrawal of 28,500 US troops from South Korea.
The suspension of the exercises was regarded as a major win for Pyongyang as well as for regional superpower and North Korea ally China.
The exercises affected included Freedom Guardian, which had been scheduled to take place in August, and two Korean marine exchange programme training exercises scheduled to take place in the next three months, Pentagon spokeswoman Dana W White said.
White said Secretary of Defence James Mattis had suspended the exercises in coordination with South Korea "to support implementing the outcomes of the Singapore summit."
"In support of upcoming diplomatic negotiations led by Secretary Pompeo, additional decisions will depend upon the DPRK [North Korea] continuing to have productive negotiations in good faith," White added.
Last year 7,500 US soldiers and 3,000 South Korean troops took part in the Freedom Guardian exercises, which the Pentagon has always maintained are purely defensive.
Notepad