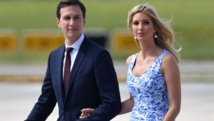 Trump, as well as his daughter Ivanka - Kushner's wife - have both claimed that the president had no involvement in Kushner's security clearance.
Last month, he told the
Times
that he was "never involved with the security" and he did not "want to get involved in that stuff."
The first daughter echoed the same in an interview with "View" host
Abby Huntsman
when she said that her dad "had no involvement" in getting security clearance for her or her husband.
NBC News previously reported that Kushner's application had been rejected by two
White House
security specialists, but they were overruled.
Shortly after the
Times'
report Thursday, Rep.
Adam Schiff
, D-
Calif.
, the chairman of the
House Permanent Select Committee on Intelligence
, and Rep.
Eric Swalwell
, D-
Calif.
, the chairman of the Intelligence Modernization and Readiness Subcommittee, expressed disappointment in Trump's reported interference.
"I'm concerned the President has jeopardized our national security by putting clearances in the hands of unscrupulous people, and against the recommendations of background investigators," Swalwell wrote in a statement. "To ensure our deepest secrets are protected, we will (need) to ensure clearances are granted based on trust, not by blood or bond."
A spokesman for Kushner's attorney told the
Times
that they were told at the time that his security clearance "was handled in the regular process with no pressure from any