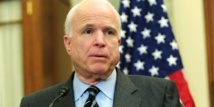 The White House flag, lowered after word of McCain's passing late Saturday, was fully raised Monday morning but went back down to half mast minutes before Trump's statement.
"Despite our differences on policy and politics, I respect Senator John McCain's service to our country and, in his honour, have signed a proclamation to fly the flag of the United States at half-staff until the day of his interment," Trump said.
---------------
Washington

(dpa)

-
A posthumous "farewell" statement from Senator John McCain urges fellow citizens: "Do not despair of our present difficulties, but believe always in the promise and greatness of America."
The statement was read out Monday by Rick Davis, manager of McCain's 2008 presidential campaign and a McCain family spokesman.
"I lived and died a proud American," McCain said. "We are citizens of the world's greatest republic, a nation of ideals, not blood and soil. We are blessed and are a blessing to humanity when we uphold and advance those ideals at home and in the world."
"[We Americans] weaken our greatness when we confuse our patriotism with tribal rivalries that have sown resentment and hatred and violence in all the corners of the globe," he warned. "We weaken it when we hide behind walls, rather than tear them down, when we doubt the power of our ideals, rather than trust them to be the great force for change they have always been."