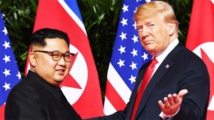 Trump made the announcement following his highly anticipated summit with North Korean leader Kim Jong Un in Singapore on Tuesday, though the move was not included in the leaders' agreement.
The military exercises have long been regarded by the North as a provocation and their cancellation was widely regarded as a major concession by the US.
The US Defense Department afterwards reassured allies, with spokeswoman Dana White saying, "Our alliances remain ironclad."
Japan expressed concern over the move, with Defence Minister Itsunori Onodera saying the exercises played "an important role for the security of East Asia" and adding that Tokyo would continue to put pressure on Pyongyang over its nuclear programme.
"We would like to ask North Korea to make policy changes in a visible way," he said.
A spokesman for South Korean President Moon Jae In said late Tuesday that Seoul needed to clarify the "meaning and intent" of the comments by Trump, who also said he eventually wanted to bring US troops stationed in South Korea home.
US command in South Korea, USFK, said in a statement it had received "no updated guidance" on the regular military exercises in the region, including for exercises dubbed "Ulchi Freedom Guardian," scheduled to take place in August.
US Secretary of State Mike Pompeo was to travel to South Korea on Wednesday and personally brief President Moon on the summit Thursday.
Japanese Foreign Minister Taro Kono was also to join Pompeo and South Korean counterpart Kang Kyung Wha for three-way talks during the visit, according to South Korean news agency Yonhap.
US media reported late Tuesday that the suspension of the war games had also sown confusion in Trump's Republican party, with spokespeople for Vice President Mike Pence forced to deny that he had contradicted the president over the war games.
"The Vice President did NOT say that military exercises will continue with South Korea," spokesman Jarrod Agen tweeted late Tuesday after Senator Cory Gardner told reporters Pence had said some exercises would continue.
"VP was very clear: regular readiness training and training exchanges will continue," Gardner later tweeted. "VP went on to say while this readiness training and exchanges will occur, war games will not."
Meanwhile, in its first reporting on the outcome of the talks, North Korean state-run news wire KCNA portrayed the Singapore summit as a win for Kim that would "remain long in history."
It said the two leaders had the "shared recognition" that "it is important to abide by the principle of step-by-step and simultaneous action."
Kim had told Trump the two countries should take "legal and institutional steps" to guarantee the denuclearization of the Korean Peninsula, it said.
Kim also told Trump that "if the US side takes genuine measures for building trust" then North Korea would "continue to take additional good-will measures of next stage commensurate with them," it added.
Trump had expressed understanding, KCNA reported, and agreed to halt the US-South Korean war games and "over a period of good-will dialogue" offer security guarantees to Pyongyang and lift sanctions against it.
The agency also said that Trump and Kim had "gladly accepted" mutual invitations to visit each other's countries.
Following the summit on Tuesday, Trump told reporters he would like to visit the North Korean capital Pyongyang "at the appropriate time," and that Kim would "absolutely" would be invited to the White House.
He also said that economic sanctions would not immediately be lifted.
On his way back to Washington, he tweeted that the world had "taken a big step back from potential nuclear catastrophe" and thanked Kim for "taking the first bold step toward a bright new future for his people."
Tuesday's summit marked the first time a sitting US president has met a North Korean leader, and resulted in a joint agreement in which the US provided security guarantees to Pyongyang while North Korea committed to denuclearization.
However, the details of what form either commitment would take were vague.