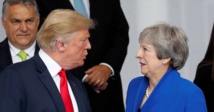 "Donald Trump is in many ways a controversialist, that's his style, that's the colour he brings to the world stage," Alan Duncan, a junior Foreign Office minister, told BBC Radio 4's Today programme.
"And he is, in that sense, very unconventional. I don't think we see it as rude," Duncan said of Trump's comments in an interview published by The Sun, a right-wing tabloid newspaper, late Thursday.
Duncan said the atmosphere during a welcome dinner on Thursday, held before the interview was published online, was "very special."
"I don't think it's rude to praise Boris Johnson," he told the broadcaster. "I don't think that's rude at all. He's entitled to his opinion."