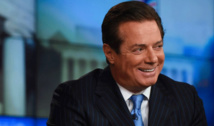 The political consultant's bail was revoked after witness tampering allegations by special counsel Robert Mueller, appointed last year by the Justice Department to investigate Russian election meddling and possible collusion with Donald Trump's presidential campaign.
Manafort headed the campaign for nearly two months until August 2016, when his Ukraine lobbying work became public.
The first defendant to go to trial in Mueller's investigation, Manafort allegedly hid his consulting and lobbying income from Ukraine's then-government, years before Trump declared his candidacy in 2015.
Manafort's former associate, Rick Gates, previously agreed to plead guilty and is expected to testify against his ex-boss in the trial on 18 counts in Alexandria, Virginia, just outside Washington.
Manafort, 69, faces a further trial in September in Washington on a second indictment on charges including conspiring to defraud the United States, money laundering, false statements, obstruction of justice and failing to register as a foreign lobbyist.
Manafort worked for the government of Viktor Yanukovych, the pro-Moscow former president of Ukraine who was toppled in 2014.
Days before becoming chairman, Manafort, who had volunteered to work unpaid for the campaign, participated in a meeting at Trump Tower in Manhattan with a Russian lawyer promising damaging information about Trump opponent Hillary Clinton. Trump's son and son-in-law, Donald Jr and Jared Kushner, participated in the meeting.
Notepad