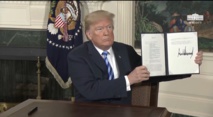 The program is set to end
March 31
, leaving an estimated 4,000 people vulnerable to deportation. Though DED bears a strong resemblance to temporary protected status - another humanitarian program facing termination that would affect about 400,000 immigrants - it has largely been left out of the national conversation.
Civil rights advocates sued the Trump administration this month over the program's termination, calling it racially motivated. Kiazolu, one of the plaintiffs, testified to
Congress
about how the program's end would affect her.
"My grandmother used to say, 'When you do good, you don't do it for yourself - you do it for God.' And with that philosophy as my personal mantra, though the majority of my family are now permanent residents and
US
citizens, I'm here for all the working-class immigrants on DED, TPS and (who) are also 'Dream-eligible,'" she told the
House Judiciary Committee
March 6
, referring to protections for immigrants brought to the US illegally as children. "I'm here for all the young people like myself who have anxiety about their futures."
Liberia
had two civil wars from 1989, the year before Kiazolu was born, to 2003. Since 1991, the country has been designated for either TPS or DED at alternating points by Democratic and Republican administrations alike.
It's also the only country designated for DED, though citizens of
China
,
El Salvador
, the Persian Gulf region and
Haiti
have all previously been eligible. Like TPS, the program allows people from countries devastated by natural disasters or war to work legally while they remain in the
US.
But unlike TPS, which is designated by the secretary of Homeland Security, DED is designated at the discretion of the president.
The lawsuit was filed on behalf of 15 Liberians, their US citizen children, and two advocacy organizations for black immigrants. Lawyers called the termination of protections unconstitutional and asked that the court prevent Trump from ending the program for Liberians.
"At every turn with this administration, we have seen immigration policies that are driven by racial animus," said
Kristen Clarke
, executive director of the
Lawyers' Committee for Civil Rights Under Law
, one of the groups suing.
The Homeland Security and Justice departments declined to comment. The
White House
did not respond to a request for comment.
Lawyers cited Ramos v Nielsen, the lawsuit filed in
US District Court
in
San Francisco
over the Trump administration's termination of TPS for immigrants from
El Salvador
,
Haiti
,
Nicaragua
and
Sudan
. Lawyers in that case similarly alleged that government officials approached their decision to end TPS with a political agenda, ignored facts and were motivated by racism.
Liberia's
history is rooted in US slavery and colonialism. Thousands of freed slaves were sent to
Africa
before the Civil War. Many settled in what would become
Liberia
. Kiazolu, the
UCLA
student, has ancestors who were enslaved in
South Carolina
.
Lawyers said conditions in
Liberia
justify an extension of DED, referencing a 2017
State Department
report detailing human rights abuses including extrajudicial killings, police abuse, official corruption, female genital mutilation, criminalization of same-sex conduct and a culture of impunity. The country is one of the world's poorest: Remittances in 2016 accounted for nearly one-third of its gross domestic product.
Other plaintiffs include a nursing assistant in
Minnesota
who fled
Liberia
during the civil war after family members were jailed, disappeared, shot and attacked; and a health care worker in
Massachusetts
who has lived in the
US
for 20 years and has six children who have never visited their father's home country.
The children of Liberians face an unreasonable decision, lawyers say. Liberian law forbids dual citizenship, so if forced to leave with their parents, the children would have to renounce their
US
citizenship to legally work and access other rights granted to Liberian citizens.
"For these US. citizen children, the Trump administration has set up an impossible and unconstitutional choice: lose your parents or lose your citizenship," the lawsuit says.
Kiazolu is set to graduate this fall. Administrators haven't been able to tell her what could happen to her research funding or whether she'll even be able to remain a student. Without permission to work, she doesn't know how she'd pay back her student loans.
Unsure of how to prepare, she has continued her regular routine, spending most days working on her dissertation about how black women in the US and in
Africa
collaborated in the 20th century on issues of women's and civil rights.
Kiazolu's father was working for the
United Nations
in
Botswana
when she was born, a year after the war started. When he got a job in
Liberia
in 1997, the war was still raging. Fearing for their safety, her mother sent her to live with her grandmother in
Decatur, Georgia
, and followed her soon after.
Kiazolu has no other paths to legal authorization. At 21, she aged out of qualifying for permanent residency through her
US
citizen grandmother. Her stepfather, also a citizen, applied for her in 2016, but there is a years-long wait. Her application was never chosen for a diversity visa, which is granted randomly for people from countries with low rates of immigration to the
US.
She also doesn't qualify for a student visa, for which applicants must demonstrate strong ties to their home country.
Her dream is to graduate and become a teacher in the country she knows as home.
"It's hard to think about," she said of her potential deportation. "I'm obviously proud of my heritage and family, but what are people really asking of me in this situation? It's just wild and immoral."