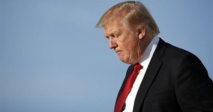 "I asked what is going to happen in 30 days if I quickly open things up, are you going to approve Border Security which includes a Wall or Steel Barrier? Nancy said, NO. I said bye-bye, nothing else works!" he wrote on Twitter, calling the meeting "a total waste of time."
Speaking on the White House driveway, Pelosi noted the cold weather was near freezing and said the temperature inside the presidential mansion "wasn't much warmer."
Pelosi added that the latest developments were "so sad" as they take place just a few days before hundreds of thousands of federal workers affected by the shutdown are due to be denied pay for the first time.
"The president seems to be insensitive to that," Pelosi said, before taking a swipe at Trump's family wealth. "He seems to think they can just ask their father for more money, but they can't."
Senate Minority Leader Chuck Schumer said Trump slammed the table in a "temper tantrum," calling the behaviour "somewhat unbecoming of a president."
Vice President Mike Pence disputed Schumer's description of the meeting, saying he didn't recall the president raising his voice or slamming his hand down. He said Trump entered the meeting and passed out pieces of candy.
He then went on to characterize the situation at the US southern border as a "humanitarian and security crisis" and accused the Democrats of being "unwilling to engage in good faith negotiations."
With no deal in sight and the two sides firmly dug in, about a quarter of the government remains shut. National parks remain partially closed along with museums in Washington and some agencies that directly serve the public.
Following the collapsed talks, the House voted to re-open the Treasury Department and "other key agencies," Pelosi said.
"While the President petulantly pledges to keep government shut down until he gets his way, House Democrats are taking swift action to restore certainty to people's lives," the leader of the House said.
"If Senate Republicans do not pass this legislation... they will be fully complicit in the chaos and cruelty of the Trump shutdown," she said.
The dispute centres on 5.7 billion dollars Trump wants Congress to approve for building a wall. Democrats refuse, saying the price is too high and argue the structure would be ineffective in solving immigration issues.
Democrats want Trump to agree to support individual spending bills that they are proceeding to pass in the House, which they recaptured the majority of after November's midterm elections. They say this would allow federal workers to return to work - and get paid - while lawmakers hammer out the border security questions.
The president rejects this because he believes Democrats would renege on a promise to take up the matter within 30 days.
Trump received a show of support earlier Wednesday when he went to Capitol Hill to meet with Republican lawmakers. He said they are "totally unified in their desire for border security.
"They want a wall or a barrier, whichever word you use," he said.
The president spoke surrounded by fellow Republicans, including Senate Majority Leader Mitch McConnell, who said, "We're all behind the president. We think border security is very important."
Trump also said his threat to declare a national emergency stands.
"I may do that," Trump said, adding that his "threshold" for doing so is if he can't make a deal. But he also said he didn't think it would come to that.
Trump in recent days has ramped up his arguments about the need for a wall. In a speech to the nation Tuesday he described the situation along the US-Mexico border as a "humanitarian crisis of the heart and soul."