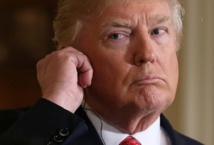 "I like Oprah. I don't think she is going to run," Trump said at the start of a cabinet meeting at the White House.
"I know her very well," he told reporters who had asked his response to talk of Winfrey running, which was touched off by her speech on Sunday night at the Golden Globe awards.
The discussion carried over into Tuesday when Winfrey's long-time friend, Gail King, said Winfrey was "intrigued" by the idea.
King, who hosts a US television morning talk show, said Tuesday that she spoke with Winfrey at length the night before.
"She loves this country and would like to be of service in some way," King said. But she added: "I don't think at this point she's actually considering it."
White House deputy press secretary Hogan Gidley said Monday that Trump would gladly stand on his presidential record against a potential challenge from Winfrey in 2020.
Winfrey, an actress, producer and talk-show host, is a billionaire and a household name in the US thanks to her long-running, top-rated talk programme, her cable channel and other projects.
Trump noted that he and his family had been a guest on her show before he got into politics.
Renewed speculation about Winfrey running was fuelled on Monday by a report on CNN that cited two unidentified friends saying the 63-year-old is "actively thinking" about running as a Democrat.