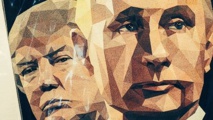 "We haven't set anything up yet," Trump said outside the White House before he headed off to final campaign stops before legislative midterm elections on Tuesday. "We'll have plenty of meetings. But I'm not sure we'll have a meeting in Paris. Probably not."
Trump said he would likely meet Vladimir Putin at the November 30-December 1 G20 summit in Argentina. He is also expected to meet Chinese President Xi Jinping in Buenos Aires.
"Getting along with Russia, China and all of them would be a good thing," Trump said.