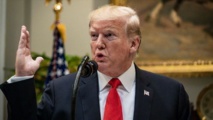 Trump signed four executive orders intending to lower drug prices, sidestepping Congress, which has failed to pass Democrat bills on the issue.
"Today, I'm taking a bold and historic, very dramatic action to reduce the price of prescription drugs for American patients and American seniors," Trump said at the White House.
The measures are to provide drugs including insulin and EpiPens at discounts to low-income people, and use lower international prices to pay for some drugs provided under the Medicare state insurance programme for older people.
Trump will meet pharmaceutical bosses on Tuesday, but some industry analysts have said the move may not have much effect.
"This administration has decided to pursue a radical and dangerous policy to set prices based on rates paid in countries that [Trump] has labelled as socialist, which will harm patients today and into the future," Pharmaceutical Research and Manufacturers of America said in a statement.
It said Trump's move was "a reckless distraction that impedes our ability to respond to the current pandemic - and those we could face in the future."
Democratic Speaker of the House Nancy Pelosi said Trump has "pulled his punches" with the decision.
"Instead of meaningfully lowering drug prices, President Trump's executive orders would hand billions of dollars to big pharma," she said in a statement.