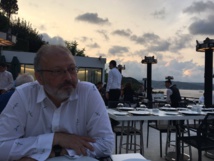 Trump had earlier promised that Saudi Arabia would face "severe punishment" if the kingdom's leadership was behind Khashoggi's disappearance, but at the White House he stressed: "As of this moment, nobody knows what happened."
The Washington Post writer and Saudi dissident has not been seen since he entered the Saudi consulate in Istanbul on October 2 to deal with paperwork required to marry his Turkish fiancee.
World leaders have demanded an explanation from Riyadh amid US and Turkish media reports that authorities believe Khashoggi, a legal US resident, was murdered in the consulate.
Saudi Arabia vehemently refutes accusations it was behind his disappearance and has claimed Khashoggi left the building before he went missing.
"We are going to get to the bottom of it and there will be severe punishment" if Saudi Arabia killed him, Trump told CBS News in an interview released Saturday.
An excerpt of the interview, due to air in full Sunday on the programme "60 Minutes," was released on Saturday.
Trump said at the White House on Saturday he would speak to Saudi King Salman over the weekend. "I think it's appropriate for me to ask him what is going on," Trump said .
But Trump said he was reluctant to cancel a 110-billion-dollar arms deal with the Saudis, even if Riyadh was found responsible.
"We would be punishing ourselves if we did that. There are other things we can do that are very, very powerful, very strong," he said.
"If they don't buy it from us, they're going to buy it from Russia, or they're going to buy it China, or they're going to buy it from other countries," he said.
One piece of evidence Turkish investigators are looking into is the Apple Watch worn by Khashoggi, according to a Saturday report in the major Turkish newspaper Sabah.
Khashoggi turned on the recording mode of his device before entering the building, according to Sabah. He had given his mobile phone to his fiancee while she waited in front of the consulate, and the device was reportedly synchronized with the Apple Watch, allowing sound to be recorded during the alleged killing.
Citing "reliable sources," Sabah wrote that the MIT, Turkey's secret service, and police had evaluated the data, which had been saved in iCloud, Apple's remote data storage service.
An outspoken critic of the Saudi government, Khashoggi published work in numerous Western media outlets.
Turkish government sources have told media outlets that he was murdered in the consulate, raising suspicion that Turkey could have bugging devices in the Saudi diplomatic building.
A delegation from Saudi Arabia arrived in Turkey on Friday in connection with the investigation into Khashoggi's fate, Turkish state news agency Anadolu reported.
Despite the reported presence of Saudi representatives, Turkish Foreign Minister Mevlut Cavusoglu on Saturday said cooperation on the part of the Saudi government was insufficient.
"We have still seen no cooperation for the good of the investigations and for the resolution of the case," Cavusoglu was quoted by Anadolu as saying. "That is what we want to see."
Saudi Arabia must follow through with its offer to provide Turkey's state prosecutor and investigators with access to the consulate in Istanbul, Cavusoglu said. The pledge to open the consulate up to Turkish officials was made days ago, the minister added, but had not yet been fulfilled.