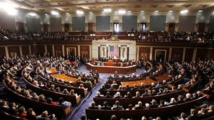 "We will be forced to close the Southern Border entirely if the Obstructionist Democrats do not give us the money to finish the Wall & also change the ridiculous immigration laws that our Country is saddled with," Trump tweeted.
Trump also threatened to cut off aid to Honduras, Guatemala and El Salvador, saying they "are doing nothing for the United States but taking our money."
The president singled out Honduras in another tweet, saying it is taking no action to stop a new migrant caravan believed to be forming in the country. He also complained that the US loses billions of dollars every year on trade with Mexico.
Trump has threatened to close the border before over caravans, but the US and Mexico have shown a more cooperative spirit on trade. The two countries along with Canada announced a new trade agreement in early October to replace the North American Free Trade Agreement (NAFTA).
The government shutdown started on December 22 when legislation to fund about 25 per cent of the government failed to pass Congress. Trump is demanding the legislation include billions of dollars for a border wall. Democrats in Congress have rejected that, resulting the in the ongoing stalemate.
The shutdown has idled portions of several government departments and agencies and left hundreds of thousands of government employees uncertain about their paychecks.