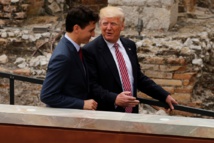 Following a session on gender equality, Trump was expected to leave the summit early at 10:30 am (1430 GMT) to travel to Singapore ahead of his highly anticipated summit with North Korean leader Kim Jong Un.
His early departure means he will miss sessions on climate change and the environment, topics largely ignored by his administration. Trump angered his G7 counterparts last year, including France and Germany, by withdrawing from the Paris climate agreement.
Following this week's spat between the US and its traditional allies over US steel and aluminium import tariffs, it was unclear whether the leaders would manage to produce a joint communique at the end of the summit.
Trump upset his fellow leaders on Friday by suggesting that Russia, which was expelled after the the 2014 annexation of Crimea, be readmitted to the elite club. His proposal was met with immediate rejection by the other members.
Despite the tensions, the White House characterized Trump's Friday meetings with Canadian Prime Minister Justin Trudeau and French President Emmanuel Macron, respectively, as "great" and "productive."
Macron on Thursday said the other G7 members did not mind signing a six-country agreement "if need be." Trump said on Friday he believed a joint statement was possible.