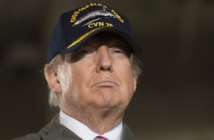 Air Force One is due to arrive at Osan Air Base in the city of Pyeongtaek, South Korea, the second stop of the president's five-nation tour of Asia.
"Getting ready to leave for South Korea and meetings with President Moon, a fine gentleman. We will figure it all out!" Trump wrote on Twitter earlier in the day.
Trump does not plan to visit the heavily fortified Demilitarized Zone (DMZ) that separates North and South Korea. Instead, the president will visit Camp Humphreys, a US military installation, where he will have lunch with US and South Korean service members.
Trump and Moon are scheduled to hold a bilateral meeting in the afternoon at the Blue House, the official residence of South Korea's president. The two leaders will then hold a joint news conference.
On Tuesday night, Trump and his wife, First Lady Melania Trump, are due to attend a state dinner at the Blue House.
Trump is scheduled to deliver a speech to the Korean National Assembly on Wednesday morning, likely focused on the North Korea threat, and lay a wreath at Seoul National Cemetery before departing for Beijing.
On Monday, Trump and Japanese Prime Minister Shinzo Abe held talks in Tokyo and agreed to maximize pressure on North Korea in order to force the regime to abandon its nuclear and missile programmes.
Trump kicked off the longest diplomatic trip taken by any US president in decades, arriving in the US state of Hawaii on Friday, the first stop on a nearly two-week trip that will also take him to China, Vietnam and the Philippines.