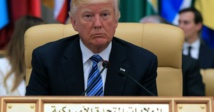 Trump in a Fox News interview that aired Sunday praised as friends French President Emmanuel Macron and Merkel, but pointed to business Germany and France are doing with Iran since restrictions were eased under the agreement.
"They're friends of mine, they really are, I get along with all of them, whether it's Emmanuel, whether it's Angela. I really like those people," Trump said. "I tell them just keep making money. Don't worry about it. We don't need you on this."
He noted that the "billions of dollars" being earned in deals make it "a little harder for those countries to do things. Would they do it if I really was insistent? I believe they would, but I told them just go on making money we don't need you on this one."
Europeans who are party to the deal have said Iran is living up to its obligations and companies have expressed concern about the potential impact of a failed agreement on business.
Trump this month moved to declare the deal not in US interests and asked Congress to strengthen its options against Iran, but stopped short of withdrawing the US from the agreement.